Der Tanz der Derwische / Zeichnung / 2013
Die große Kreidezeichnung "Der Tanz der Derwische" nimmt die linke Wand des unteren Raumes ein. Derwische gelten als klug, weise und erleuchtet, sind Meister der Heilkunst und praktizieren den Sufismus, eine Sammelbezeichnung für Strömungen im Islam, die von asketischen Tendenzen und spiritueller Orientierung geprägt sind. Von oben betrachtet sieht der Besucher große und kleine Tänzer und Tänzerinnen samt Gliedmaßen, die sich scheinbar in schnellem Tempo im Kreis drehen. Das komplette Papier ist von diesen runden Figuren und ihren dazugehörigen Gliedmaßen ausgefüllt, und bei längerem Betrachten verstärkt sich der Eindruck, dass sich die Figuren tatsächlich unaufhörlich im Kreise drehen. Diese Kreidezeichnung wiederum ist eine Reminiszenz an Ansari´s Kindheit, während der sie mehrere Jahre Ballett getanzt hat.
Text: Anna Knüpfing, Kunstmagazin, 02. Oktober 2013

The large chalk drawing "The Whirling Dervish" occupies the left wall of the lower gallery. The piece refers to Dervishes, dancers who are considered wise and enlightened, who are masters of the art of healing, and who practice Sufism, a collective term for current spiritual practices in Islam that are characterized by their ascetic tendencies. Such dance rituals, as seen from above, allow the viewer to perceive both large and small dancers, and limbs that are seemingly going round in circles at a fast pace. In Ansari's case, the complete paper is filled with these round figures and their associated limbs, so that during prolonged viewing, an intensified impression occurs in which the characters seem to actually rotate endlessly in circles. This chalk drawing is yet another throwback to Ansari's childhood, during which she danced ballet for several years.
Text: Anna Knüpfing, Kunstmagazin, 02. Oktober 2013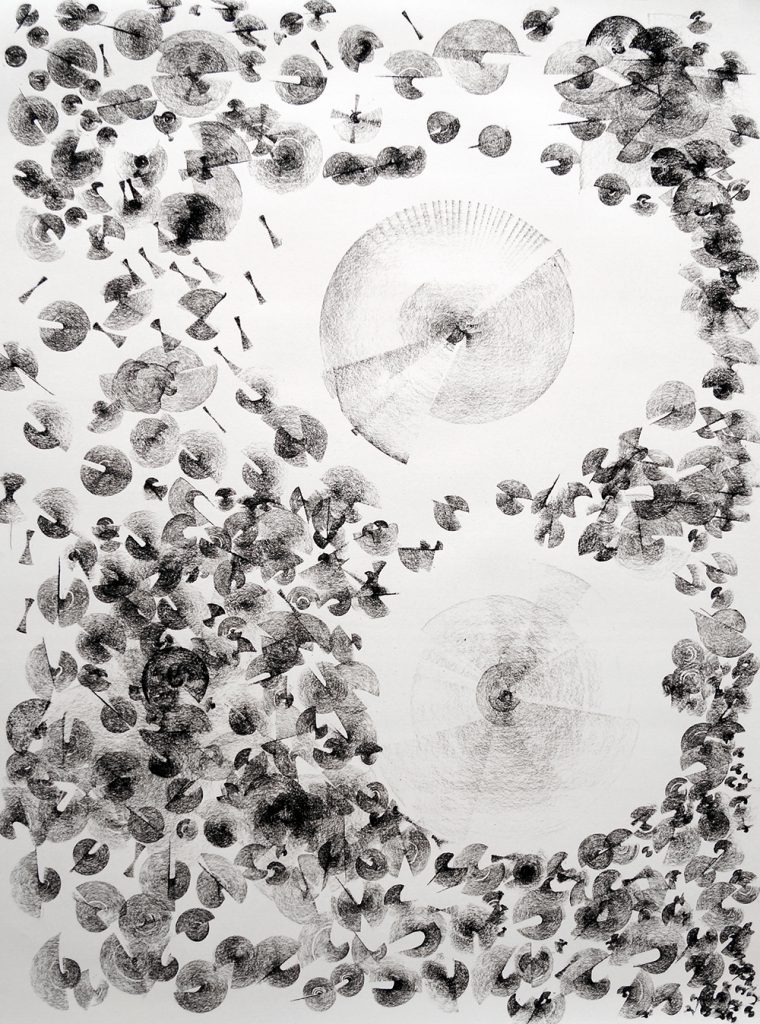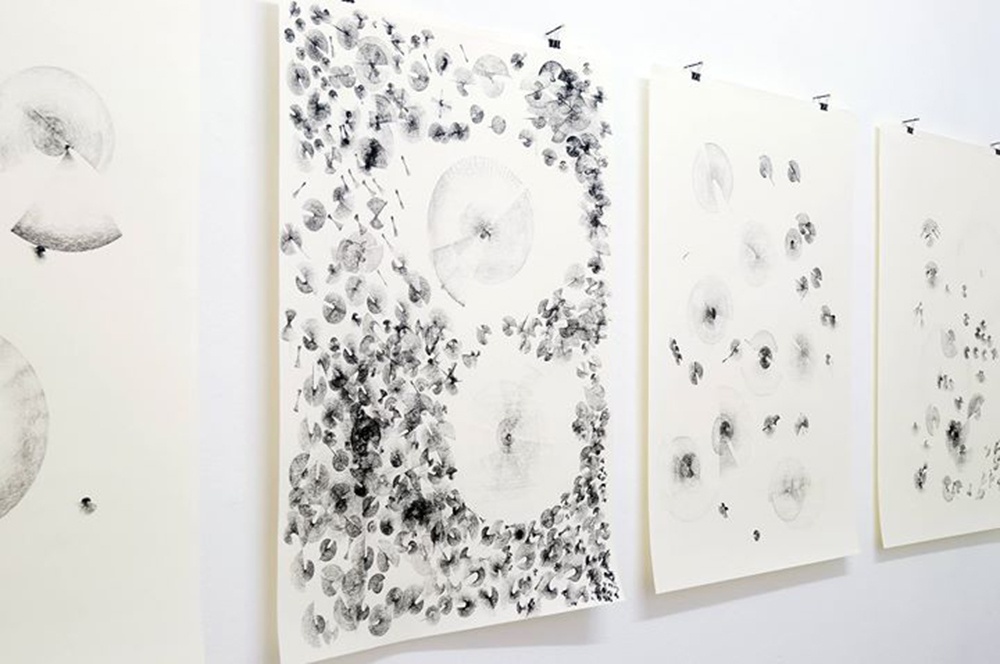 graphite and charcoal on paper, unique, signed 
70 x 100 cm, 2013